Jean-Michel Carasso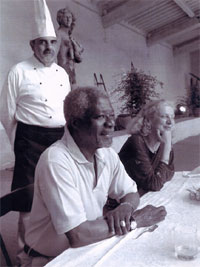 - was born in 1945 in Belgian Congo (now Democratic Republic of Congo). Moved to Paris in 1960 and there finished school and university (graduated in Modern Letters and Languages at the Sorbonne).
After some years of teaching moved to Florence, Italy, in 1979, where he finally started a career as a cook, his former dream. Cooked for different social-clubs from 1981 to 1992 and then opened his own place, "Gauguin", a well-known and creative "no-meat-no-fish" Mediterranean restaurant.
His side-activities as a free-lance journalist and contemporary-art curator gave him the opportunity to meet important personalities of Florence's and Italy's cultural and artistic world who also appreciated his cooking talent and his restaurant. The place soon became a meeting-point for writers, poets, painters., actors and film-makers and was indicated in all the major tourist-guides in Italy and around the world.
After 10 years of restaurant activity, he decided to dedicate his time to catering and teaching, specializing in ethnic and world-cooking, which means "exotic" cuisine for the Italians and Italian cuisine for foreigners.
He has lately held a course on spices for the university of Siena for three years, taught to foreigners in the beautiful scenery of Castello di Vertine (Siena), and went on catering and home-cooking for important institutions and personalities (German Culture Institute of Florence, Gabinetto Vieusseux, Pitti fashion events, British Consulate in Florence, French Cultural Insitute in Florence, American art-schools, Florence city-authorities, New-York University, British Institute in Florence, Villa Romana Art Foundation, Florence Jewish Community, etc…)
In 2006 he was called at Villa La Pietra in to cook privately for United Nation's Secretary General Koffi Annan and Mrs Annan during their 4 days vacation in Florence.
He has published in France a Tuscan cookbook called "Promenades gourmands en Toscane" (Editions Robert Laffont, Paris), and now keeps cooking as a free-lance chef on request, choosing to accept only interesting cultural-gastronomical situations like, for instance, the Opera-weeks organized by Danish journalist and opera-specialist Thomas Milholt in Tuscany. Jean-Michel also created an interesting website in 4 languages, about Italian cuisine: www.buonappetitoate.com and a personal ethnic-cuisine blog: www.cucinarelontano.blogspot.com